WLP077 Tropicale Yeast Blend - New Thiol Releasing Non-GMO Yeast Blend
Category : New
Date : April 23, 2023
Author : R&D Department
Biotransformation
If you have been paying attention to the brewing world at all, you have heard the term "biotransformation''. Biotransformation refers to the interaction of yeast with hop compounds during fermentation. New research has emerged showing yeast to have the capacity to change various hop compounds into aromatic compounds that previously were not present, an approach that is becoming increasingly popular for juicy IPAs.
Yeast cells contain many types of enzymes that act as catalysts for a variety of biochemical reactions within the cell, often at varying activity levels. Some of these enzymes can trigger the conversion of bound hop compounds, resulting in unique aromas. Key enzymes identified in this biotransformation process include beta-glucosidase and beta-lyase.
Beta-glucosidase releases the aromatic terpenes from a non-aromatic glycoside precursor, such as geraniol from geranyl glycoside, while beta-lyase releases bound thiols (sulfur-based compounds) into free thiols (passionfruit and guava aromas). Beta-lyase activity in yeast has lately been the focus of brewing research because of the resulting contribution of tropical characteristics such as passionfruit and guava.
Bound Thiols
Free thiols, which are often responsible for contributing tropical aromas, are present in some of the most popular hops. However, many other hop varietals can contain higher amounts of odorless bound thiols. Yeast interactions from high B-lyase strains with these varieties of hops have been found to release these bound thiol compounds to free thiols resulting in new tropical aromas.
*The thiol concentrations in these less expensive hops can vary depending on growth conditions and season. The level of bound thiol present in the hops can directly be correlated with the levels of passionfruit and guava in a resulting beer.
IRC7
Beta-lyase enzymatic activity is strain dependent and can be traced back to the IRC7 gene. In collaboration with Oregon State University (Dr. Chris Curtin) and Virgil Gamache Farms, Inc., White Labs set out to screen for beta-lyase activity in our strains.
The results showed varying degrees of beta-lyase activity in the strains that were analyzed. With this information, we wanted to validate the theory that high enzymatic activity would directly correlate to free thiols and, thus, the tropical characteristics in a finished beer.
Activity Assay
We first started by extracting the enzyme out of the yeast cell to measure activity levels (Cordente et al. 2019). They were compared with a known high activity control, Maxithiol, and known low activity control, S-288C. As seen in figure 1. Strains with higher than 1 relative activity were considered high-activity yeast.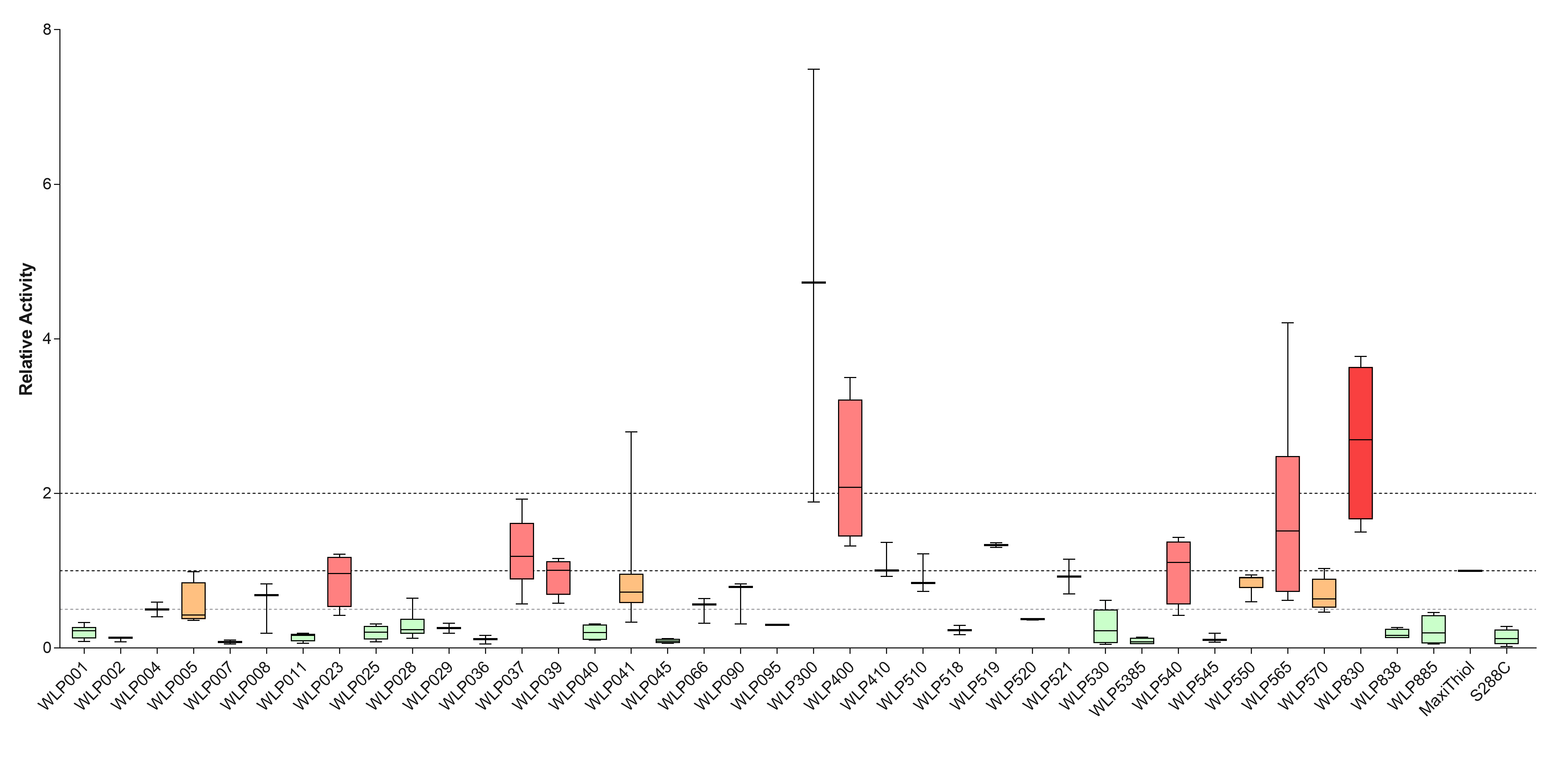 Brewing Trial
We brewed with some of these strains to test our theory and determine if the sensory attributes in a beer would be perceivable. Using Cascade, Simcoe, and Mosaic for the whirlpool and dry hop additions, we conducted a split-batch fermentation using our new high-activity B-lyase blend, WLP077 Tropicale Yeast Blend, and WLP001 California Ale Yeast, a strain that had shown low enzyme activity in the assay. After fermentation, we sent these beers to be analyzed by Gas Chromatography for free thiol concentrations and a blind beer sensory panel was conducted.
Levels of Free thiols such as 3-sulfanylhexan-1-ol Acetate (3SHA), aromas of grapefruit and passionfruit, were present and above the threshold in our WLP077 Tropicale Yeast Blend.
Fig 2. Free Thiol 3SHA analyzed by GC. Flavor Threshold 5ng/L
The last step was correlating the analysis results with actual flavor differences in the beers by conducting a sensory test.
From the side-by-side tasting comparison, we collected and summarized the following tasting notes:
WLP001 - Resin, Dank, Pine
WLP077 - Passionfruit, Peach, Vanilla
Based on the results of our description test, the WLP001 California Ale Yeast was perceived to be similar to a West Coast IPA with resin and dank notes coming from the Cascade hops. The WLP077 Tropicale Yeast Blend was described as juicy, passionfruit, and vanilla, along with less lingering bitterness.
The results from our directional difference test (ASBC Sensory-6) showcased a positive significant difference for a stronger intensity of passionfruit/grapefruit.
| | | |
| --- | --- | --- |
| Which Sample Had the Stronger intensity of passionfruit/grapefruit? | WLP001 California Ale Yeast | WLP077 Tropicale Yeast Blend |
| | 6 | 19 |
Level of Significance ≤ 0.05
Conclusion
We sought to make a yeast blend that has not only high activity for biotransformation but also provides an all-natural blend that contributes to the balance of aroma and flavors known in Hazy IPAs.
Go out and experiment with this new blend and see what new flavors and aromas can be unlocked with hops!
Yeast Innovation and White Labs Brewing Co. 10th Anniversary
The timing was perfect with the celebration of the 10th Anniversary of White Labs Brewing Co. for a brand new hazy IPA brew to debut in cans and showcase our newest strain innovation. White Labs Brewing Co. has been an integral part of our company, acting as a conduit for R&D to gain considerable information about our yeast strains, current and new, on a large brewing scale. To mark 10 years of brewing innovation, we are bringing you this hazy IPA fermented with WLP090 San Diego Super Ale yeast and our NEW WLP077 Tropicale Yeast Blend.
---