PurePitch Next Generation, an evolution of White Labs' PurePitch® – the most superior and consistent yeast on the market – has been made even better with new packaging for ease of use, and verifiable quality and consistency to help you make the absolute best beer possible.
PurePitch Next Generation is available in
Click below to view the strain page!

PurePitch Next Generation is available in a new optimized 1.75L volume size made to contain 2.15 Billion cells / mL
and designed to pitch 5 HL at a rate of 7.5 million cells/mL.

PurePitch Next Generation is more than just the next generation of a
great product, it's an evolution driven by real input from brewers like me.
-Jake Ridle, Brew Boy
Juneau, AK
A Few Highlights of PurePitch Next Generation:
Incorporated handles for ease of use and storage.
Breathable, proprietary, dual-layer film, allowing more effective off-gassing and reduced package expansion for optimal yeast health.
Perfected pitching rates and online calculator at yeastman.com for custom recommendations to achieve optimal fermentation based on beer type, batch size, temperature, and gravity.
Find our pitching calculator on yeastman.com
1.75L volume size made to contain 2.15 Billion cells / mL, designed to pitch 5 HL at a rate of 7.5 million cells / mL.

PurePitch Next Generation is grown using our patented FlexCell™ process that allows us to propagate yeast with no exposure to the environment, ensuring quality and purity in every package.



Each PurePitch Next Generation package features the quality control data we're known for – which includes 38 quality checkpoints. With a new easily accessible QR code printed right on the packaging, you have on-demand access to strain and lot information, including precise cell counts, strain-specific details, quality control data, and usage instructions.




Knowing that every single pouch of PurePitch Next Generation has already been through 38 quality checkpoints before it even gets to us makes me feel really good about the quality of yeast we use at Vitamin Sea.

- Dino Funari
Vitamin Sea Brewing
Weymouth, MA
Increased Viability
Improved shelf life – through process improvements and laboratory analysis, we monitor the glycogen content of the yeast cells to give them more energy when starting a fermentation.
PurePitch Next Generation features a breathable proprietary dual-layer film designed to allow for more effective off-gassing to reduce product inflation and deliver higher viability and shelf life for the yeast. While the industry standard shelf life is 2-4 weeks, PurePitch Next Generation achieves an impressive four-month shelf life.
We've added a resealable port to PurePitch Next Generation making it easy to remove a yeast sample for in-house or third-party lab analysis and it comes in a convenient size to fit under a hood.
Increased Fermentation Speed
The demand for higher pitch rates has been steadily rising for decades. To fit brewer's needs we've optimized the cell count of PurePitch Next Generation to ensure brewers worldwide see consistent, clean, and speedy fermentations. With our consistent pitch rates, brewers have seen shortened lag-times resulting in quicker gravity drops.
Gravity (Plato) vs. Day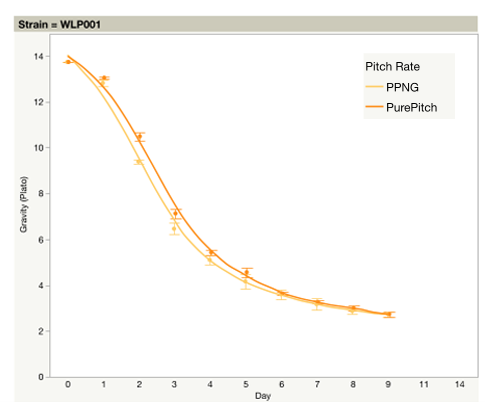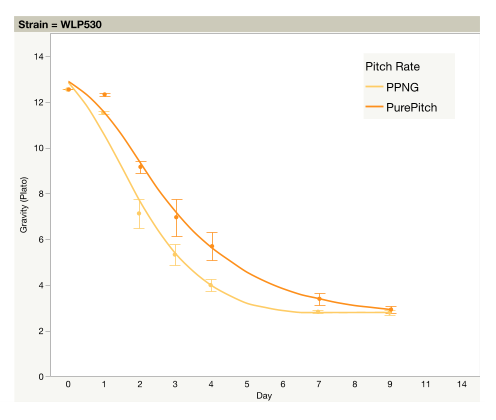 The new packaging is innovative and easier to use. We're loving the new handles and resealable port for sampling in-house. It also puts an end to climbing a ladder carrying scissors, which was great.
-Aaron Stueck
Brewery Research & Development Director
BJ's Restaurant and Brewhouse
Boulder, CO