PurePitch® Next Generation, an evolution of White Labs' PurePitch® – the most superior and consistent yeast on the market – has been made even better with new packaging powered by FlexCell® Technology for ease of use and a pitch rate resulting in a foolproof fermentation every time.
PurePitch Next Generation
Why PurePitch® Next Generation?
We developed PurePitch Next Generation after feedback from brewers like you, wanting a product that was easier to use, flexible and provided a fermentation you could count on every single time.
Improved Performance
PurePitch Next Generation combines the ease of a bottle and the innovation of PurePitch, offering a modular pouch with a cap and a consistent cell concentration intended to pitch at 7.5 million cells/ mL; a commercially recommended pitching rate to ensure a foolproof fermentation.

Scale up with Ease and Customize Your Pitch Rate based on your batch specifics

Working with high gravity brews or lower fermentation temperatures?

​Our online calculator at yeastman.com allows you to see the exact recommendation for you using your volume, temperature, and gravity. Allowing you to customize the pitch rate to anything you want, larger or smaller!
Increased Fermentation Speed
The demand for higher pitch rates has been steadily rising for decades. To fit brewer's needs we've optimized the cell count of PurePitch Next Generation to ensure brewers worldwide see consistent, clean, and speedy fermentations. With our consistent pitch rates, brewers have seen shortened lag-times resulting in quicker gravity drops.
Gravity (Plato) vs. Day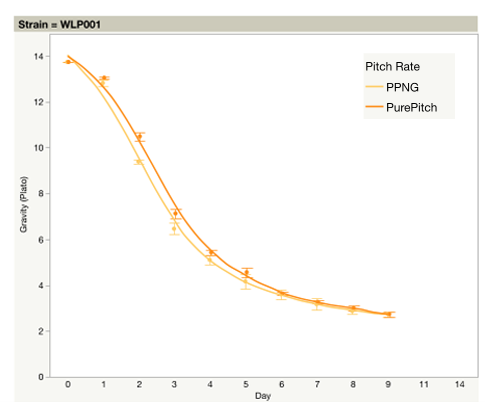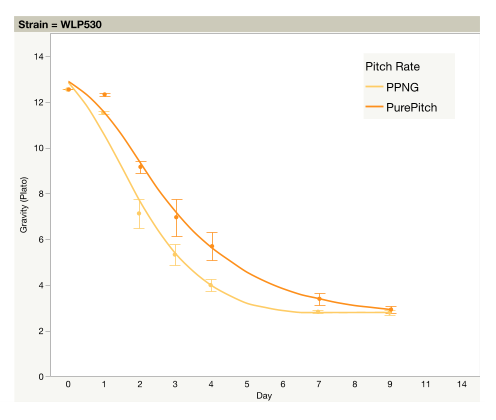 Innovation
Because we never stop, PurePitch Next Generation has an improved proprietary film designed specifically for White Labs and allows for one-way off-gassing to promote yeast health and viability. The cap allows for ease of use, no more scissors or fumbling with two-layer film, and the option to open and reseal for sampling or using partial pouches.

Increased Viability
Improved shelf life – through process improvements and laboratory analysis, we monitor the glycogen content of the yeast cells to give them more energy when starting a fermentation.

PurePitch Next Generation features a breathable proprietary dual-layer film designed to allow for more effective off-gassing to reduce product inflation and deliver higher viability and shelf life for the yeast. While the industry standard shelf life is 2-4 weeks, PurePitch Next Generation achieves an impressive four to six-month shelf life.



Technology
A QR code on each package directs you to all the information you need to make the best beer: the quality report of every lot, additional strain-specific information, data, and recipes. The online pitch rate calculator will recommend the right amount of yeast for a foolproof fermentation or allow you to customize the amount based on your desired pitching rate.