Cultures Grown in Small Batches
To ensure the yeast is in optimal physiological condition for the best flavor production, highest viability, and multiple reuses, White Labs yeast utilizes a 21-day growth and testing program.
Each culture undergoes a rigorous testing process from start to finish, which includes 38 quality checkpoints throughout the propagation cycle. Cultures are held following the completion of propagation and validated at the time of final quality control process, against all specification standards. Samples of each batch in final packaging are retained at White Labs to assist with research and development. Our tests adhere to the guidelines of the American Society of Brewing Chemists, when applicable.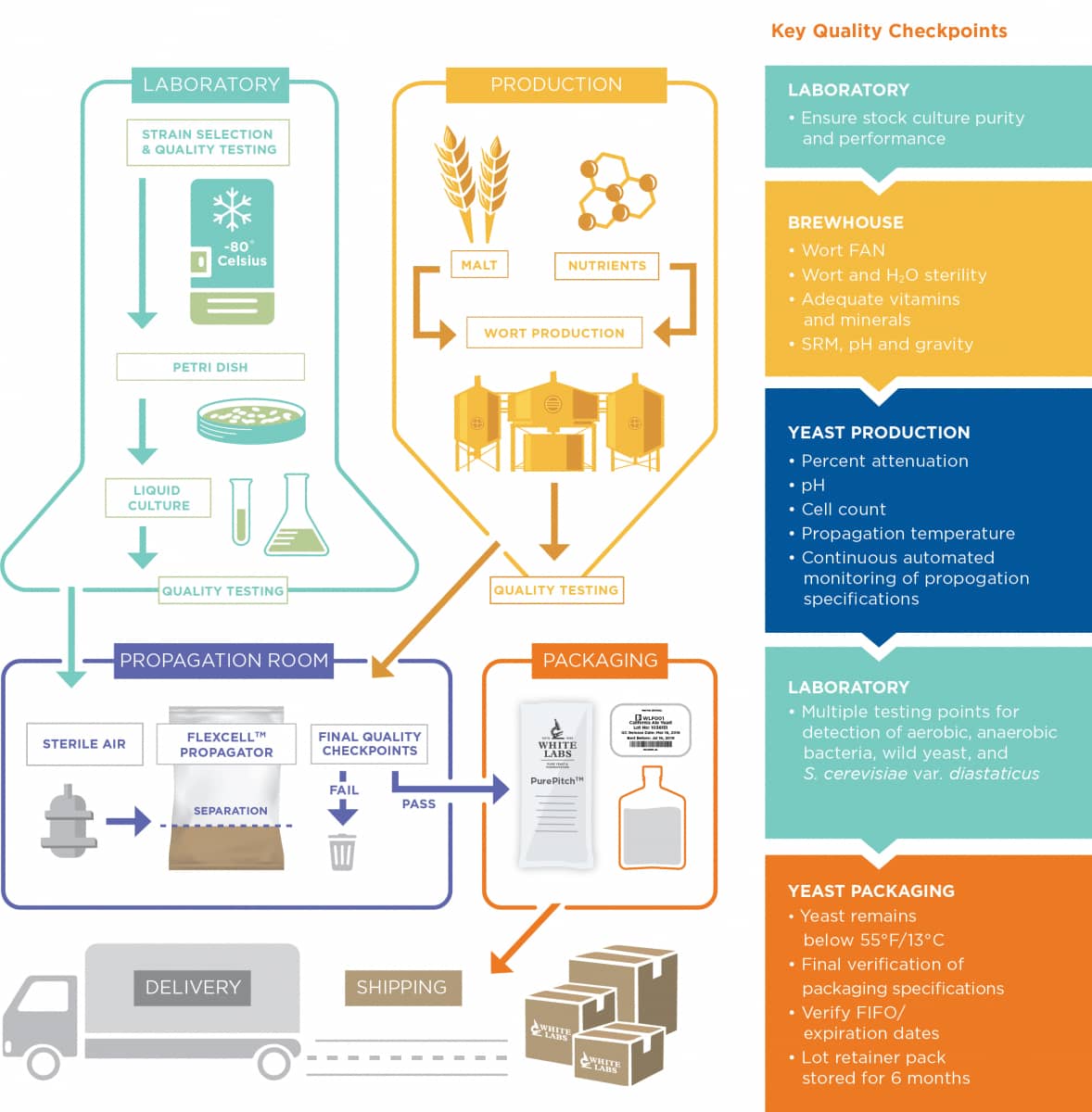 Grown for Performance
Grown directly from petri dishes into a maltose and nutrient-rich medium for 21 days, grown slow and optimized to provide the healthiest, most robust yeast, ready for your fermentation.
Innovation
Patented propagation technology optimized for our brewer's yeast cultures.
Quality Control
38 quality control checkpoints to ensure a consistent, high quality, contaminant-free culture, every time.
Visit here to view the QC report for your lot of yeast
.
White Labs cultures are monitored from our -80°C freezer through packaging.
Parameters, such as culture purity, pH, cell density, attenuation, and microbiological contaminants, are monitored throughout the 21-day process.
ASBC Methods, in addition, to new molecular techniques are being used to test final your final products.
At White Labs, we worked closely with Invisible Sentinel to develop a novel, robust multi-plexed qPCR assay to detect wild yeast and bacterial contaminants in the complex matrix of yeast cultures. To learn more: Click Here.
Testing for the STA1 (Diastatic) gene in our strains
All of our strains have been identified as either STA1+ or STA1- strains via PCR techniques. All strains are tested on LCSM wild yeast media which can easily detect STA1+ contamination. Additionally, molecular techniques, such as qPCR, are being used to detect STA1+ yeast our cultures.
Traceability
Proprietary software to track your culture through its lifecycle.